| | | |
| --- | --- | --- |
| | 8 inch gun Field Artillery Battalions | |
During World War Two there where eight Field Artillery Battalions equipped with the 8" gun. In the European Theater of Operations they where the: 153rd, 243rd, 256th, 268th and 575th Field Artillery Battalion, in the Pacific Theater of Operations operated the: 570th, 573rd and 780th Field Artillery Battalions.
| | | |
| --- | --- | --- |
| | | |
| Frank Gyra with his ammunition. | | Assembling a gun. |
The M1 8 inch gun was moved in two pieces, tube and carriage, on trailers by M35 prime movers. The carriage was lifted from the trailer and set in place by a mobile Lorain crane. The tube, was then lifted off its trailer and set in place on the carriage. The gun tube, on carriage M2, (in firing position) weighed approximately 35 tons (1).
The projectile weighed 240 pounds and the gun's maximum range was 35,490 yards (2), just over 20 miles.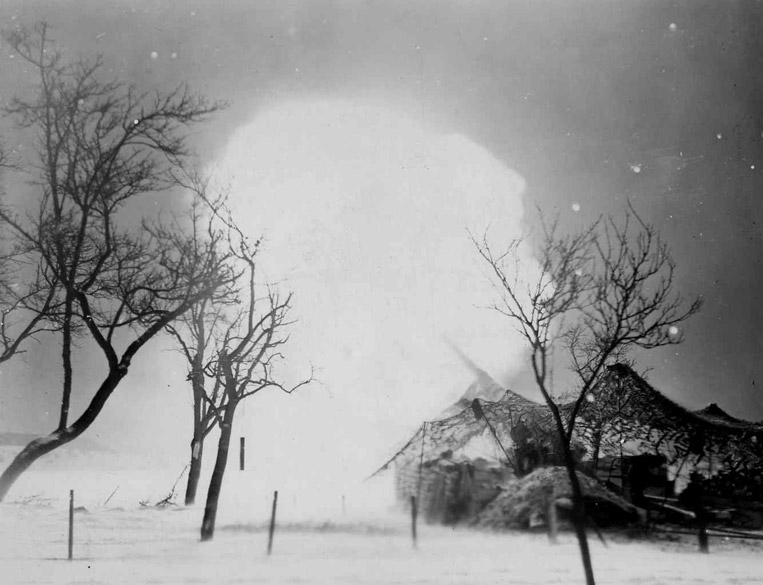 The 8 inch gun in action.
During the Battle of Metz a German railroad gun (believed to be 280 mm) shelled XX Corps headquarters the morning of October 6, 1944. A gun of the 243rd was emplaced near Jarny and tasked with counter-battery fire on the railroad gun. Another gun was placed at Romas, 3,000 yards from the front line for the mission. The railroad gun was thought to have been silenced when one of the guns destroyed a tunnel, which was thought to house the gun. Unfortunately, the railroad gun was not destroyed afterall and it shelled XII Corps headquarters to the south. Another battery (two guns) of the 243rd was dispatched 40 miles south to Nancy(3). Subsequent to this, the 243rd supported XX and XII Corps with counter-battery, interdiction and harassment fire.
| | | |
| --- | --- | --- |
| | | |
| A M35 towing a 8 inch gun tube. | | The gun completed. |
Currently the following After Action Reports of the 243rd Field Artillery Battalion can be found on our website: June/September, October, November and December 1944, Januari, Februari, March, April and May 1945.
---
| | |
| --- | --- |
| Sources & links: | STANTON, S.L., World War II Order of Battle, Stackpole Books, Machanicsburg, PA, USA, 2006 (ISBN: 9780811701570) |
| | US Army in World War II: Artillery and AA Artillery |
| | (1) Field Artillery Journal, Sept. 1946, page 524. |
| | (2) Field Artillery Journal, July 1946, page 413. |
| | (3) Battle Diary; the Story of the 243rd Field Artillery in Combat, edited by Frank Smith, Hobson Book Press, 1946. |
| Site design & initiative: | Hans Houterman |
| Page created by: | Jeroen Koppes |
| Many thanks to: | Mike Semenock |
| Last update: | 27.12.2008-CSS |
| | |